A lot of wood, compositions of live plants and natural colors – decorate the house for the coming year of the Black Rabbit correctly.
Every family has its own traditions of decorating the house or apartment for the New Year holidays. But it is always useful to diversify a little favorite set of decorations: for example, you can do it by adding thematic elements, choosing a single style or using certain colors. In this article, we will tell you what the symbol 2023 likes and how to decorate rooms for the New Year to please him.
Features of the Rabbit symbol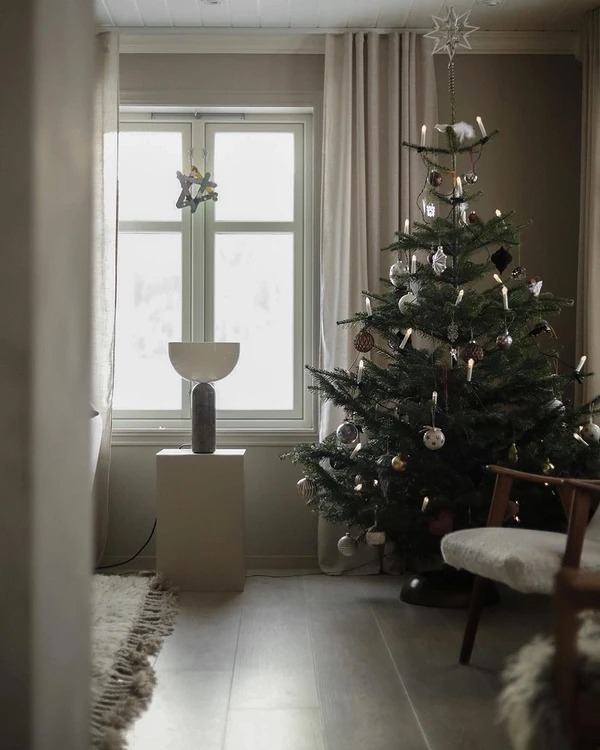 What does Rabbit like?
The patron of the coming year is the Black Water Rabbit, which appears on the Eastern calendar only once every sixty years! Despite its dark color, astrologers are sure that it bodes well.
To understand how the next twelve months will go, it is enough to imagine the character of this animal: calm, friendly, gentle disposition and tenderness. In 2023, no major upheavals are expected, but relations with loved ones should improve. If there were conflicts, they will be resolved. If not, family ties will become even stronger.
For Rabbit, relatives, close circle, and offspring are very important. That is why the house will be a focal point, and it is very important to pay special attention to decoration of the house for the New Year. In order to have good luck in 2023, you need to take into account the preferences of the furry symbol.
So, Black Rabbit likes:
Wood – add as much wooden furniture and decor to the environment as possible.
Green – decorate rooms with wreaths, floral and coniferous compositions, indoor plants.
Cozy – use all kinds of textiles from soft, pleasant to the touch fabrics (carpets, plaids, pillows, tablecloths, winter sets of curtains).
Calm colors – avoid glaringly bright shades of red, green, blue, and too much unnatural glitter. Give preference to decorations in shades of beige, gray, black, brown. If you want to use saturated shades, choose noble natural variations. White will also be appropriate.
Family-ness – prepare together with children handicrafts from paper or clay and decorate the table with them, hang drawings, handmade garlands, common photos on the walls. Beautifully decorate the corner with gifts and wishes, hang glass balls on the Christmas tree, passed down from generation to generation.
But animalistic prints and images of other animals, especially predators, the timid Rabbit does not like. It is better to refuse such decorations, and if you have in the living room, for example, there is a carpet in the form of a skin, at the time of the holiday you can replace it with a more neutral version. And, of course, use in the decoration any figures and drawings of the symbol itself: it can be Christmas toys, prints on napkins or decorative pillowcases, dolls, ceramic figurines, drawing on tableware. If you want to decorate the nursery or living room with a themed stuffed toy, choose small and elegant things, rather than cheap synthetic products of acid colors. Remember: Rabbit likes everything natural!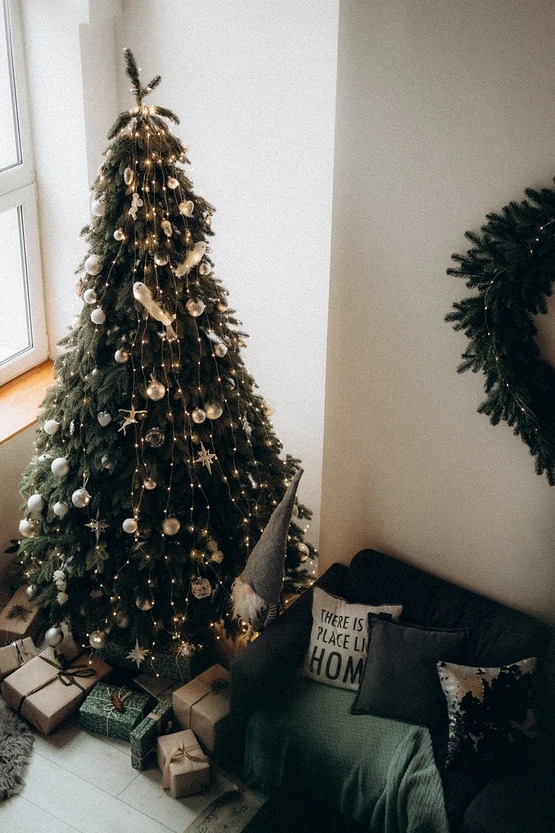 Choosing the style of New Year interior 2023
When we decorate the house for the New Year with our own hands, it is important that the interior looks coherent. So it's better not to just buy up in stores or do all the decorations in a row by master classes, but to choose a unified style and stick to it. This is not only looks better aesthetically, but it will help you not to get lost in the variety of holiday decorations.
Eco style in the interior
Ecostyle is definitely the most on-trend this season: it meets the general trends in design and decorating, and Rabbit is directly connected with nature. The direction does not have clear visual markers, like, for example, classic or loft. Rather, it is a set of certain principles that should be followed when selecting decorations for your home or apartment.
Features of holiday decor in the style of eco:
Minimize plastic, disposable packaging, and planet-unfriendly garbage. Replace rain and tinsel with paper Christmas lights and dried berry or fruit spreads.
A natural Christmas tree, of course, looks beautiful and smells great. But if you do not support deforestation, you can replace it with a full-sized or compact artificial version. In addition, this is more practical and economical – the fake tree will last for many years. If you still want to bring a live spruce into the house, buy one that is specially bred for sale.
Use whatever nature has to offer: dry twigs, fruit peels, cones, dried berries, tree bark, and acorns left over from the fall. This is a great excuse to combine business with pleasure: to go to the country or take a walk with your family in the park, and then from the collected material to do something with your own hands for the New Year's interior.
Instead of plastic, choose environmentally friendly materials: wood, plywood, clay, stone, paper. And replace synthetic fabrics with natural or high quality blended fabrics.
If you want to decorate your home with garlands or luminous figures, choose energy-saving models.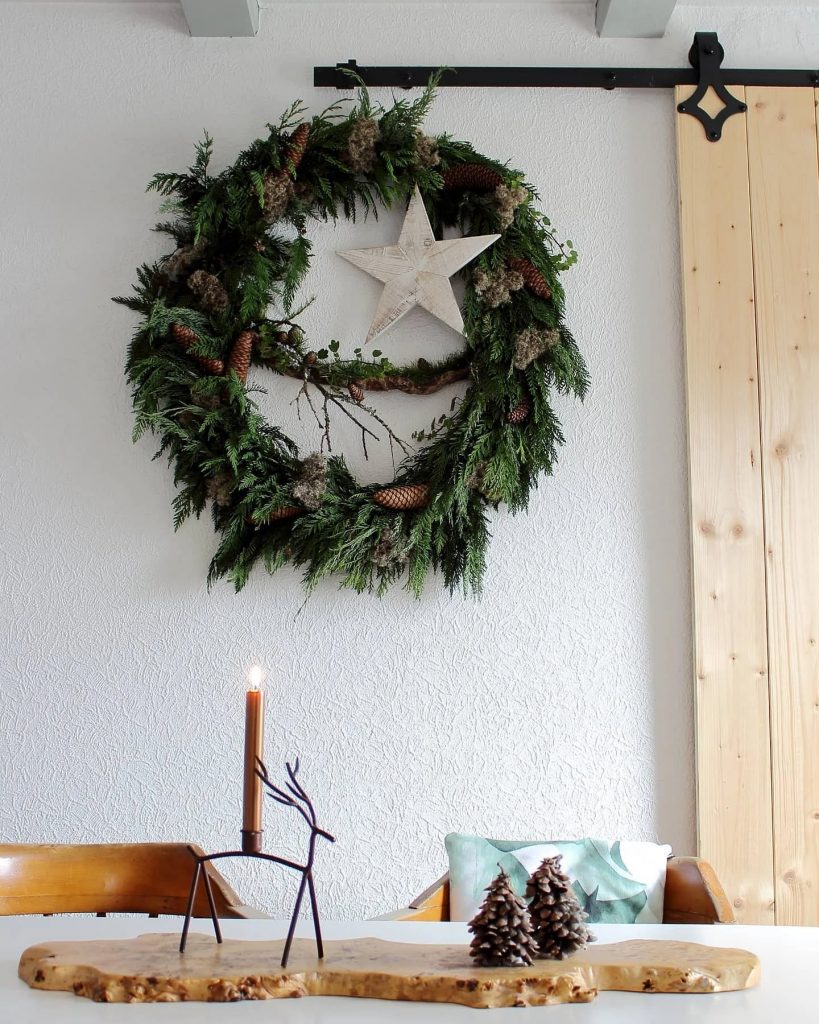 English style in the interior
If you value home comfort and prefer to spend the winter holidays with your extended family, you can adopt the English classics. It perfectly combines with the symbol of the next year and will appeal to those for whom minimalism or Scandi seem too restrained styles for the New Year's Eve theme. To recreate the spirit of Christmas in the English style at home, just think of the atmosphere of "Harry Potter" or any other themed movie that takes place in Britain.
English classics are characterized by:
Subdued colors – brown, beige, gray, dark green, burgundy.
Cage, stripes, flowers and other traditional ornaments.
Natural materials, vintage furniture and decor.
Variety of textiles.
This style will look especially organic in a country house, where there is a fireplace. It will become the focal point of the whole composition: you can hang socks for gifts on it, put a wreath and decorative compositions, candles, small gift boxes for entourage on the portal. In a city apartment, a dressed up Christmas tree in the living room will be enough. Do not forget to beautifully set the table for family gatherings. And among the options on how to decorate the door for the New Year, of course, the traditional wreath leads the way. It can be hung both on the inside and on the outside of the doorway.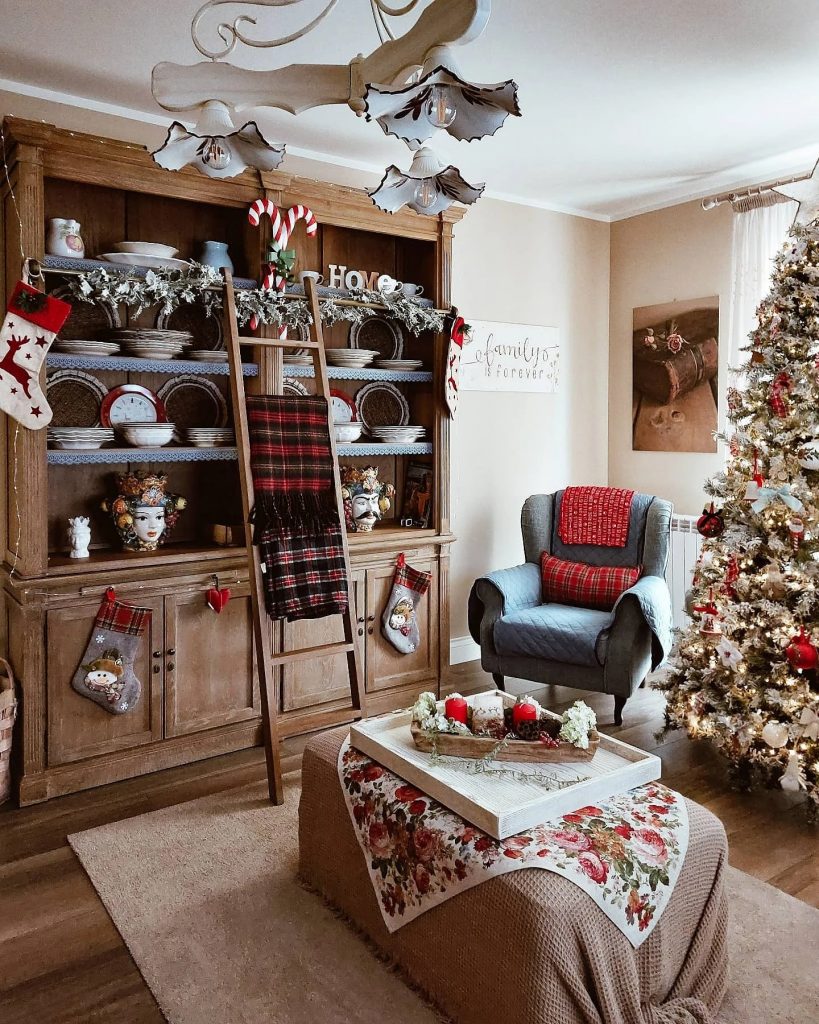 New Year's decorations at home in the style of minimalism
Holiday decorations don't have to be colorful and numerous. Even a few atmospheric decorations are enough to create a cozy Christmas mood.
Minimalist decor includes:
Laconic jewelry of simple shape.
Accessories in calm colors, often in monochrome.
Christmas tree with few or no toys.
Organic textiles.
Garlands with soft light, close to natural light (without neon lighting).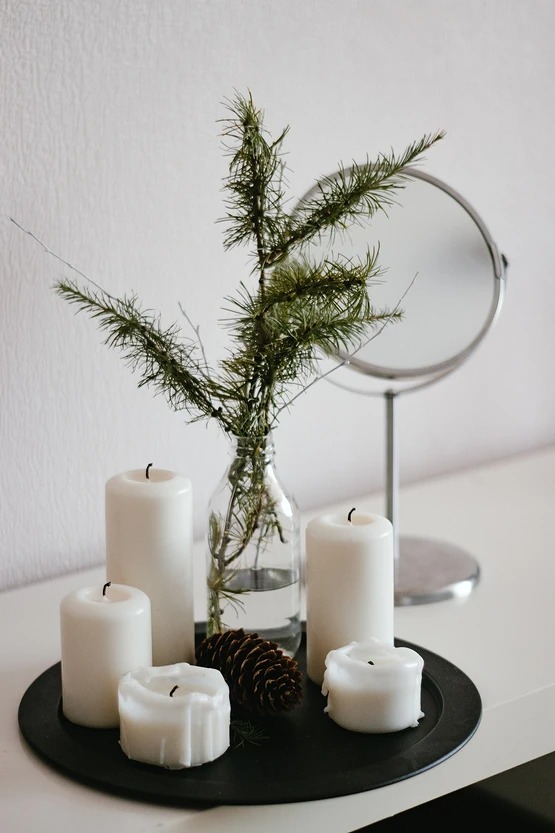 Ideas for different rooms
Consider options for holiday decor for different rooms.
Living Room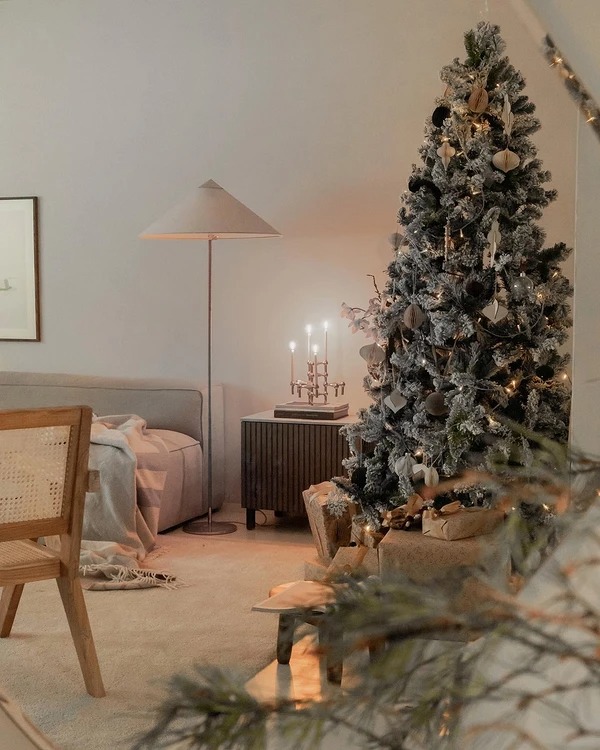 The living room is the main room in the house. It is where all relatives and friends gather, exchange gifts, watch Christmas movies, and have a feast on December 31. There can be a lot of decor in the living room, because it is it that creates the atmosphere of the holiday.
Tips for decorating the living room:
The focal point is the Christmas tree. The ornate tree should immediately attract the eye, so place it in plain sight. If the room is large, put the tree right in the center. If there is not enough space or the room is elongated, you can allocate a corner for it. It is best if it is in front of the entrance.
Before you decorate the Christmas tree with garland and toys, choose a specific style: for example, they can be wooden, retro or themed for the coming year. Stick to 2-3 colors, and minimalists can use a monochrome palette – it looks very stylish. Do not forget to decorate the base of the tree, especially if it is ugly, and organize an area with gifts nearby.
The soft group can be made even more cozy with the help of themed textiles, scented candles and decorative compositions on the coffee table.
If the living room has a fireplace or dresser, decorate these surfaces with small wreaths, garlands or New Year figurines.
Do not forget to decorate the windows for the New Year: glue applications on the windows, put ornaments, lanterns or large luminous stars in the Scandinavian style on the windowsills.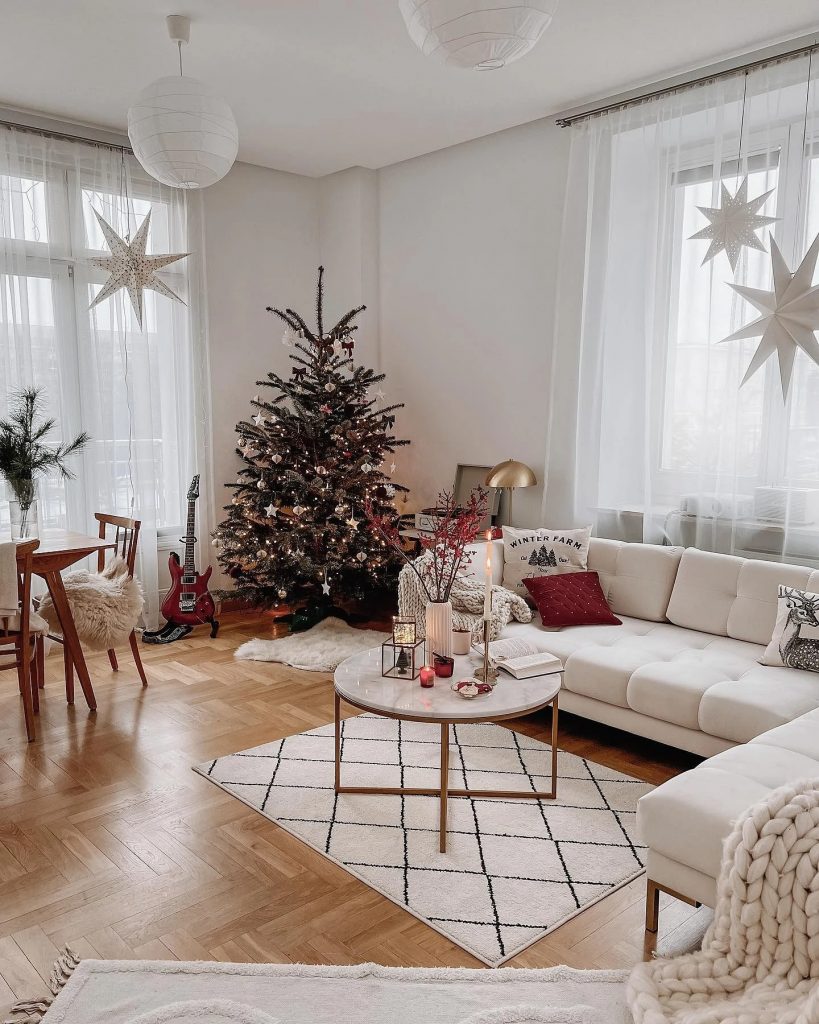 How to decorate the kitchen for the New Year
In the kitchen in general it is not customary to use a lot of decor, because it is a specific room, which is inherent in high humidity, temperature fluctuations, dirtiness.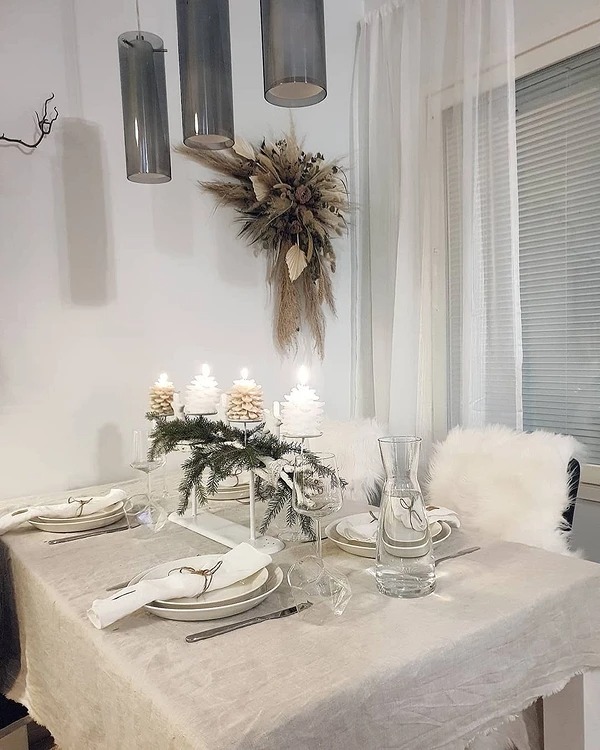 But adding themed decorations is possible and even necessary. The main thing is to take into account the peculiarities of different areas. For example, you should not hang spruce twigs from the nearest forest or plastic figurines over the stove, and wooden decorations – near the sink, around which it is always wet. Also remember about domestic convenience: it is better not to arrange figures and wreaths on the tabletop, where you cook, so that they do not interfere with the process.
But the windows, the door, and the dining area can be decorated properly. Use:
Holiday-themed tablecloths and napkins.
Bouquets of branches and berries in beautiful vases.
Matching tableware.
Vases, baskets or jars with ginger cookies and other sweets.
Candles for the table in tall candle holders.
Garlands, hanging dried fruit or paper figurines, etc.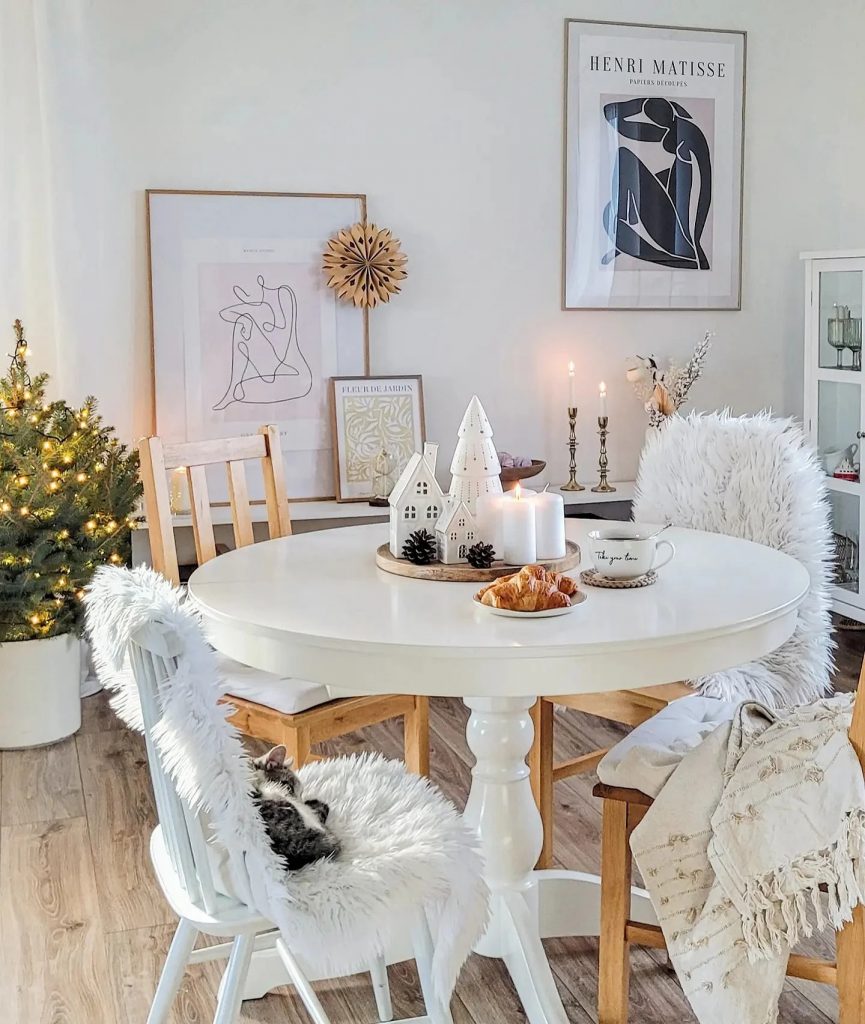 Bedroom
The bedroom is primarily designed for rest, so there should not be too many decorations, especially bright ones.
A couple or three accessories that create a festive, but relaxed mood will be enough. For example, candles, bed linen and decorative textiles in the appropriate coloring, garland with soft lights. On the dressing table or windowsill you can put a mini Christmas tree or plant a beautiful toy bunny. If you do not know how to decorate the wall behind the headboard for the New Year, use themed banners, wreaths and applications. On a hanging shelf, you can place a mini garland or make a small composition.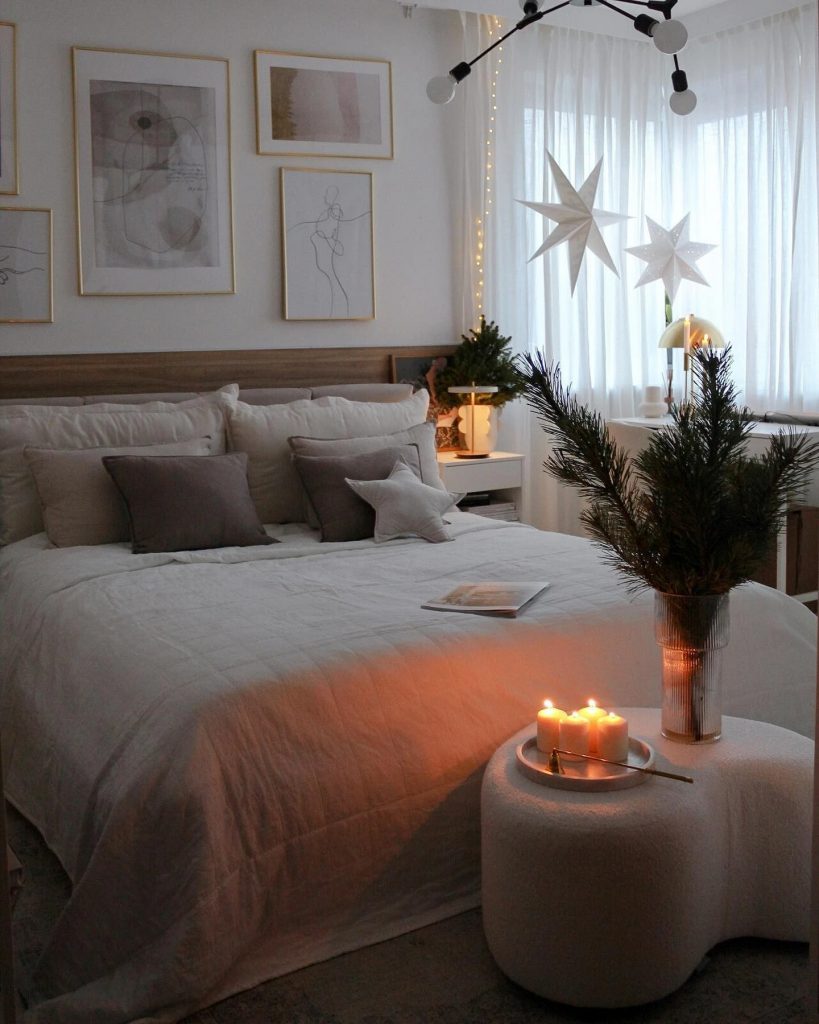 Hallway
Decorating the hallway during the holiday season is especially important, because it is the first place that owners and guests see – respectively, the mood is already formed here.
The main element of the hallway is the door. A classic decoration for it is a wreath. It hangs both inside and outside. You can add a couple of bells or themed stickers. If the entrance area has shelves, a console or a dresser, put a couple of cute figures on them, a Christmas branch in a vase or beautifully arrange a traditional garland. Great look any crafts and decor from the forest: cones, twigs and other small things will create a connection between the interior and the nature outside, even within the framework of the city apartment.