If you want to create a New Year's Eve mood, but don't want to spend too much time decorating your house, consider our quick and easy ideas.
1. Create a pattern using stencils
A beautiful and simple option to decorate your home for the holiday is to create a drawing using stencils. You can buy them in a store or make them from paper or cardboard yourself. With the help of this accessory and artificial snow in a spray can you can decorate windows, doors, furniture and any other surface in the apartment.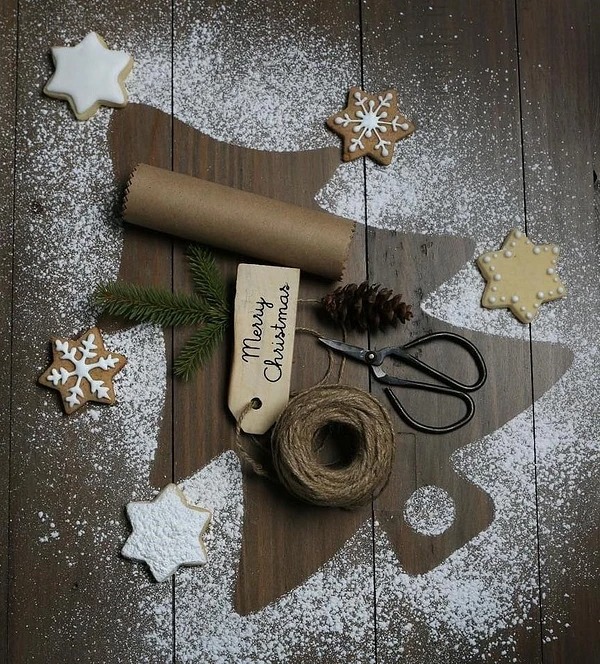 2. Make snowflakes out of paper
A quick and, most importantly, budget-friendly way to decorate the interior for the New Year – homemade snowflakes. To cut them out of paper, you need very little time. Finished products can be hung on the window, on curtains, make garlands or place them on a dresser. It is not necessary to use white paper, pastel shades also look great in the interior. If you want a more durable decor, use thin cardboard instead of paper sheets. And you can find beautiful schemes for patterns on the Internet or connect your imagination and come up with a snowflake design yourself.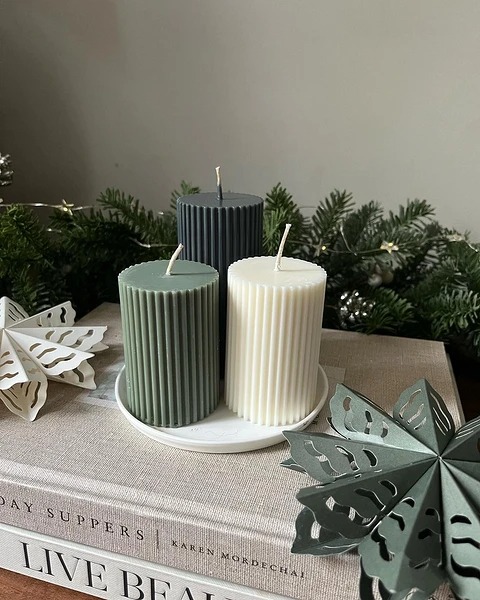 3. Hang Christmas decorations everywhere
You can use balls, cones, icicles and other decorations not only on the tree, but wherever your imagination tells you. You can put the Christmas decorations in a tall, transparent vase for a beautiful tabletop decoration. Make a garland from them, attach them to curtains or hang them on a decorative bouquet of branches.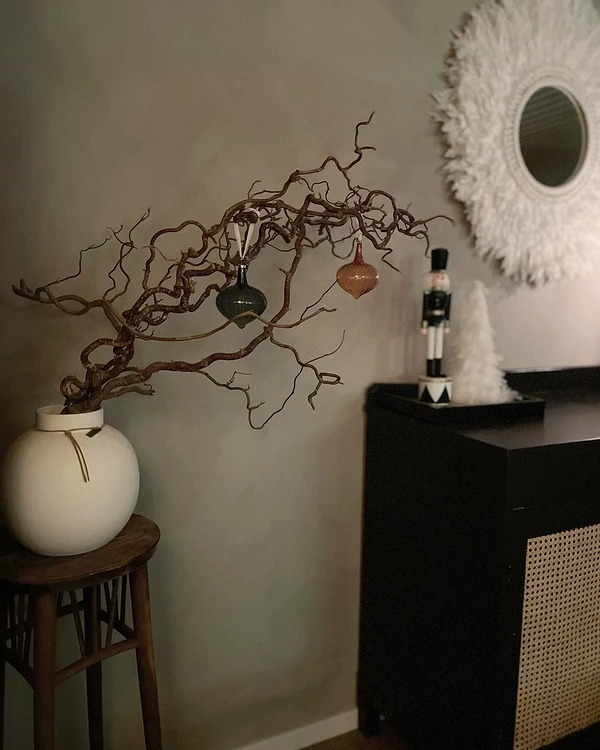 4. Put together a winter bouquet
Several spruce branches can be combined with other natural decorations to make a beautiful bouquet. Natural elements can go well together with artificial ones, bought in store, such as branches with sequins or berries, feathers and so on. Such bouquets can be placed throughout the house: they will decorate the interior and also serve as a natural scenting agent, spreading a pleasant smell of pine around the apartment.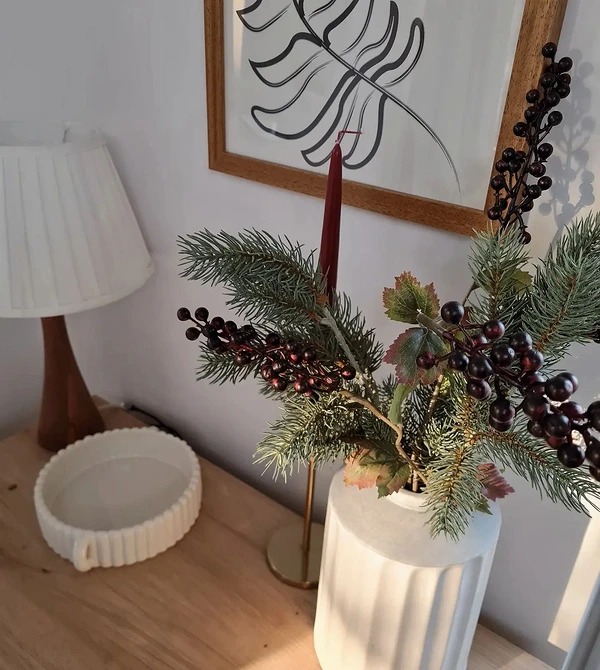 5. Put together a vignette with candles
A beautiful composition on a coffee table or shelf will also help to create a New Year's mood in the room. It is very easy to make such a vignette: just take a couple of Christmas toys, a decorative candle or LED garland and a small tray. Beautifully placed everything on it, you get an interesting holiday decoration, which wants to consider.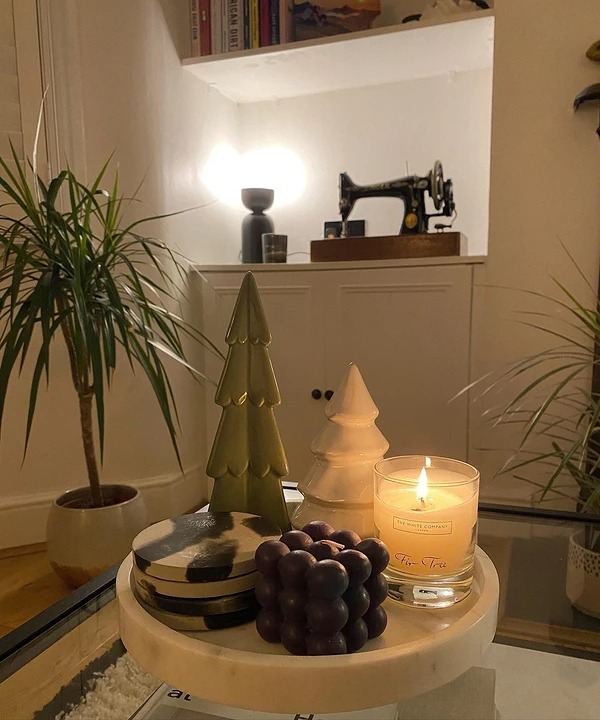 6. Change the dishes
Sometimes it's enough to get a winter or New Year's Eve set to transform the whole kitchen at once. You don't even need additional decorations: cute themed plates and cups will replace them. This is convenient, because not only do you decorate your kitchen, but you can use these dishes at least every day.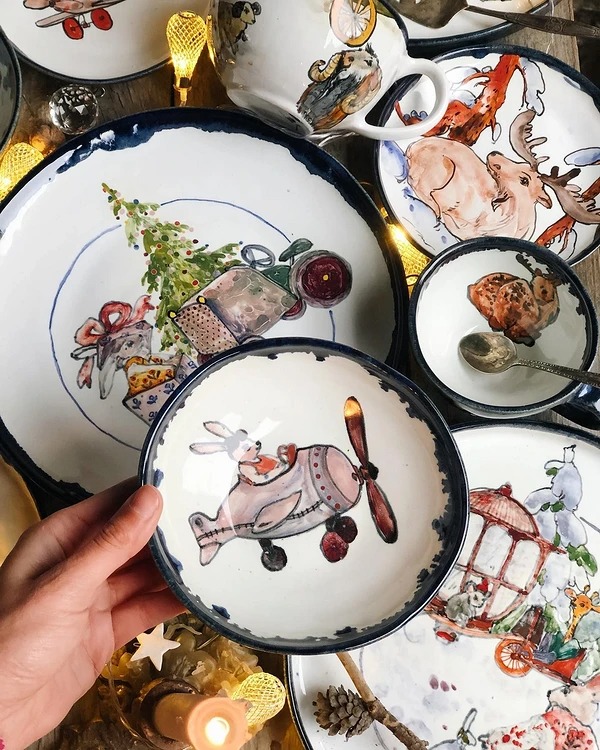 7. Hang LED lights
Several LED lights in different parts of the room create the necessary coziness and sense of celebration. You can decorate the curtains with them or let them hang on the wall, put them in a transparent jar or vase and put them on the table. The color of the garland is decisive. Colorful multi-colored LEDs can quickly get bored, so it is better to choose bulbs with a warm soft light.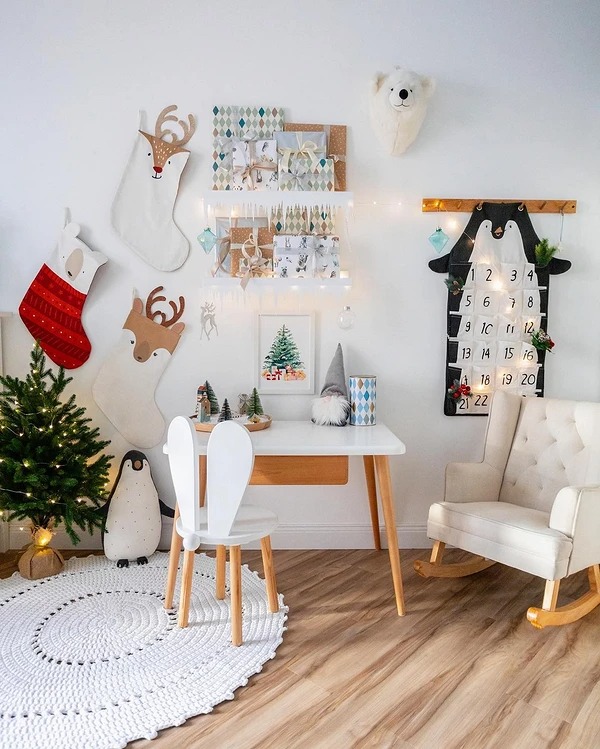 8. Bake New Year's Eve cookies
An unusual and delicious way to decorate your home is to bake gingerbread cookies. You can put them in beautiful glass jars and decorate shelves in the kitchen or make an edible garland and hang them on the wall or on the Christmas tree. And don't forget to eat the cookies afterwards!